"Thinking Beyond the Textbook"
Just using the textbook gets boring for both students and teachers, but preparing handouts nearly on a daily basis is a time consuming activity for the instructor.  Let's think beyond the textbook and the handouts by sharing fun activities which get the students using what they know and practicing what they have learned, but avoiding the textbook.
GUEST SPEAKER
James Chan, CeLTIE Director
"Extending the Textbook with SCOLA's Insta-Class," "Integrating Authentic Videos Into Class Presentations," "Stack Your Webcam Above the Textbook"
Shiau-Jing Guo
"Software in the Classroom"
Galina Krivonos
"Do You Blog?"
Mihaela Petrescu
"Media Literacy: Film and Post-viewing Activities"
Megan Barrett
"Exploiting the Cute and the Fuzzy"
Daniela Ortiz
"Culture Islands"
Amandine Lorente-Lapole and Jordi Teillard-Clemmer
"Create Your Own Ad"
Frédérique Loisseau and Jordi Teillard-Clemmer
"YouTube in the Classroom"
Bethany Braley
"Espionage"
Lily Ibarra
"Imagining Vocabulary"
Maria-Thereza Bastos
"Using L1 Children's Books for L2 Learners"
Beatrix Burghardt
"Still Looking for Penpals for Your Students"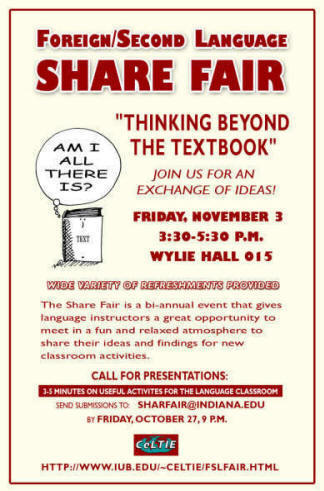 SPONSORS
French and Italian; Spanish and Portuguese; Center for Latin American and Caribbean Studies; German and Germanic Studies; Slavic Languages and Literatures; Second Language Studies; Language Education; CeLT; Campus Instructional Consulting (CIC)
COMMITTEE
Jorge Aguilar,
Second Language Studies
Renato Alvim,
Spanish and Portuguese
Maria-Theresa Bastos,
Language Education
Lina Khawaldah,
Slavic Languages and Literatures
Blair Overstreet,
French and Italian
Mihaela Petrescu,
German and Germanic Studies
Jordi Teillard-Clemmer,
French and Italian
Claire Renaud,
French and Italian
Caroline Strobbe,
French and Italian